Enter details
Payment
Complete!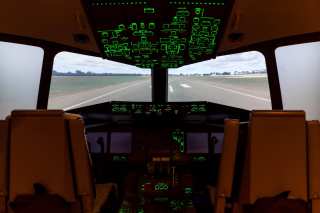 Ultimate Simulator Experience
Take to the skies on an Airbus A380 or Boeing 777 flight simulator!
First, please read about the simulators and what to expect at our Flight Simulator Page.

Then choose your aircraft from the options below and add to basket. The Boeing 777 is navigated by a yoke that sits in the middle, whereas the Airbus A380 is navigated by a side stick.

Please note the price is per simulator (suitable for up to 4 people) NOT per person.

If coming with friends, make sure you all have entrance tickets. Maximum 4 people per session.

Select the date of your session and go to checkout.

Your surname is your Captain's name and will be displayed on the Departures Board. You can request a custom Captain's name in the checkout. This can't change on the day.
⇒ Have you received a Gift Voucher? Enter your code at the checkout.
Your Cart
Item
Price
Qty
Subtotal
There are no items currently in your cart

Total

£0.00