Enter details
Payment
Complete!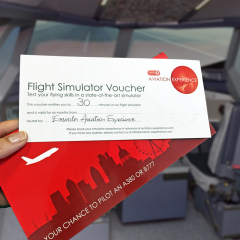 Gift Vouchers
How it works - Please read before you book
Gift Vouchers are open date tickets, redeemable within 6 months. They are posted First Class and will arrive at your address within 3 working days.
You can choose either the Simulator Experience at £60, which includes a 30 minutes session and one adult entrance ticket, or the Ultimate Simulator Experience at £90, which includes a full one-hour session plus two entrance tickets.
To book your actual simulator session using a Gift Voucher you need to book 24-hours in advance using the code on the voucher. From the main Tickets page, select the Simulator Experience or the Ultimate Simulator Experience option. Later, in the Checkout, you can Apply the code found on your Gift Voucher.
Enjoy!
Your Basket
Item
Price
Qty
Subtotal
There are no items currently in your basket

Total

£0.00